2011
LokalGlobalPlan, Ålekistevej in Vanløse, Copenhagen, DK 2011
The project was realised as part of a community based art exhibition at Ålekistevej in Vanløse, DK.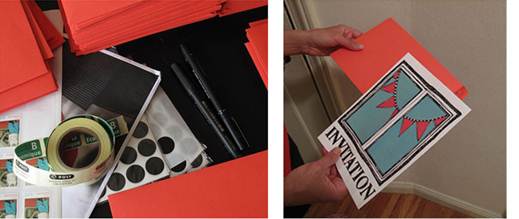 For this project I invited all residents at Ålekistevej by sending them a letter. Following is an extract:
Dear resident,
You are hereby invited to make an exhibition in one or more of your windows facing Ålekistevej. Whether you want to participate is entirely voluntary, but the more who participate, the merry.
The project is called BLIKFANG and runs at Ålekistevej from 19th of May to 5th of June 2011. This invitation has been distributed to all households on Ålekistevej. The idea is simple: if you got a window facing the street, you have the opportunity to participate.
Hopefully this invitation will inspire you to create a colorful and personalized window decor to the delight and amusement of those who pass Ålekistevej. Shops, with their decorated windows, already arouses people's attention, but BLIKFANG offers YOU the chance to steal the attention in a few weeks!
You can off course do whatever you find important, but please use your favorite color as inspiration. The more residents involved, the more colorful Ålekistevej will become from 19th of May to 5th of June 2011.
Your participation is valuable. I really hope you want to join the fun.
Best wishes,
Berit Nørgaard
Visual Artist.
BLIKFANG was made for The Community Art Project "LokalGlobalPlan"
Please visit www.lokalglobalplan.dk for further information.
Read the invitation in danish here